Ancient bones suggest first humans travelled further than we think: Scientists have discovered an ancient bone in Saudi Arabia, dating back to 90,000 years ago.

A fossilised human finger bone dating to almost 90,000 years ago has been discovered in the Saudi Arabian desert, a find researchers say points to the possibility that our species ventured towards the east far earlier than previously thought.
An international consortium of researchers including Oxford University, the Max Planck Institute for the Science of Human History and the Saudi Commission for Tourism and National Heritage, conducted fieldwork in the Nefud Desert of Saudi Arabia, where they discovered an ancient bone belonging to an early human of the Homo sapiens species which they were able to directly date.
"This discovery of the fossil finger bone is like a dream come true because it supports arguments that our teams have been making for more than 10 years," said Prof Michael Petraglia of the Max Planck Institute for the Science of Human History, a co-author of the research. "This find, together with other finds in last few years, suggests that modern humans, Homo sapiens, were moving out of Africa multiple times during many windows of opportunity during the last 100,000 years or so."

Prior to this discovery, it was widely believed that early ventures from Africa into Eurasia had been unsuccessful and only ever reached the parameters of the neighboring Mediterranean forests of the Levant.However, the results published in Nature Ecology and Evolution, detail the team's discovery made at Al Wusta, an ancient fresh-water lake located in what is now the Nefud Desert.



The team were able to date the finger bone directly using a technique known as uranium-series dating. The results put the age of the finger bone at about 88,000 years old – a figure backed up by dating of the associated sediments and animal fossils.
"These animals tell us that when humans were living there it was not a desert, that the site was a lake, a small but permanent perennial freshwater lake, in a grassland setting," said Groucutt.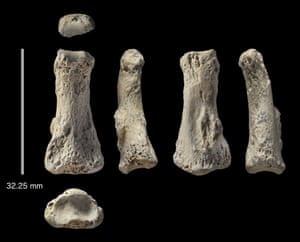 Genetic studies suggest that non-Africans today are descended from modern humans who walked out of Africa up to 60,000 years ago, with earlier migrants dying out – possibly due to the impact of Neanderthals, or being overwhelmed by further waves of our own species.

It remains unclear whether the Homo sapiens at Al Wusta arrived via the Levant, by crossing the Red Sea or by going around the Red Sea's southern end – an idea supported by Donald Henry from the University of Tulsa in an accompanying article.

Professor Michael Petraglia of the Max Planck Institute for the Science of Human History, adds: 'The Arabian Peninsula has long been considered to be far from the main stage of human evolution. This discovery firmly puts Arabia on the map as a key region for understanding our origins and expansion to the rest of the world. As fieldwork carries on, we continue to make remarkable discoveries in Saudi Arabia.'